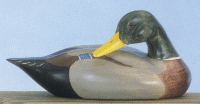 Thank you for your interest in Dux' Dekes. Our family business has been serving the decorative decoy industry and wood carving industry at our upstate NY location since 1987. Our decoys are carved from Adirondack white pine. White pine is used for slicks (painted decoys). Pine, with its beautiful wood grains, is an excellent wood for staining and for use in various antiquing techniques. White pine is versatile because it can also be used for detailed carving and feathering. We take great pains to bring the best quality wood to your door. We dry our wood right here in the shop, cutting out the knots and checks (cracks) to deliver a quality carving for your enjoyment.
We have tried and succeeded in bringing a high-quality wooden decoy to the market. Our basic carvings have walked a fine line between those who want to paint right out of the box and those who wish to detail. When these designs were made, we left enough wood to carve, but not too much that the decoys looked out of proportion when painted right out of the box. In 1997 we started our line of "premier" carvings. This was in response to those who wanted more realism, extra detail, raised primaries and tertials, and a little more attitude.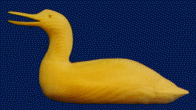 We will be offering quality wood carving supplies that directly supplement your decoy painting and carving needs. These items include: Fordome tools and accessories, sandpaper, Jo Sonya painting kits and Silver brushes.